Sometimes tumors can grow on the auditory nerve from your ear to your brain. This causes unilateral hearing loss, dizziness, one-sided facial weakness, and tinnitus. An MRI scan is needed to confirm the diagnosis. If you have severe anxiety, you may consider the open MRI option.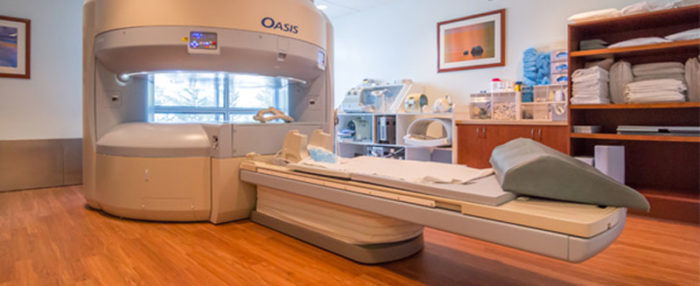 Referral
An audiologist performs a battery of tests to help diagnose the cause of unilateral hearing loss. This will include an audiogram that determines the softest sounds that you hear in each ear along with speech discrimination testing. Acoustic reflexes measure how the nerve on each side function. Sometimes the audiologist will do vestibular testing or electrophysiological testing. If the audiologist suspects an acoustic neuroma, he or she will refer you to an Ear, Nose, and Throat (ENT) specialist. The ENT then refers you for the MRI.
Testing
To prepare for the test, you will need to remove watches, jewelry, and underwire bras. You will also take off hearing aids, glasses, and wigs. You may take medication to help calm anxiety. The test center may offer you earplugs to wear and a blanket. You will need to stay still and calm, so try to meditate and relax. Let your doctor know of liver and kidney conditions that may impact metabolism of contrast dye which is normally ordered in exams for acoustic neuroma.
Treatment
The ENT will look at the scans and determine the tumor's size. Surgery may be considered to remove the tumor. Decisions depend on how fast the tumor is growing and the impact it is having on your quality life. The goal is to remove the tumor while preserving remaining hearing; however, it may not be possible to save the hearing in that ear. For unilateral hearing loss, you can consider obtaining a CROS hearing aid or a BAHA implant. Your ENT and audiologist will go over the options with you.
The MRI scan is an important piece of diagnosing acoustic neuroma. Once your doctor has made the diagnosis, he or she will review your treatment options.